Bloc main.blocs.text
(Click below for Mental Health Tips & Strategies)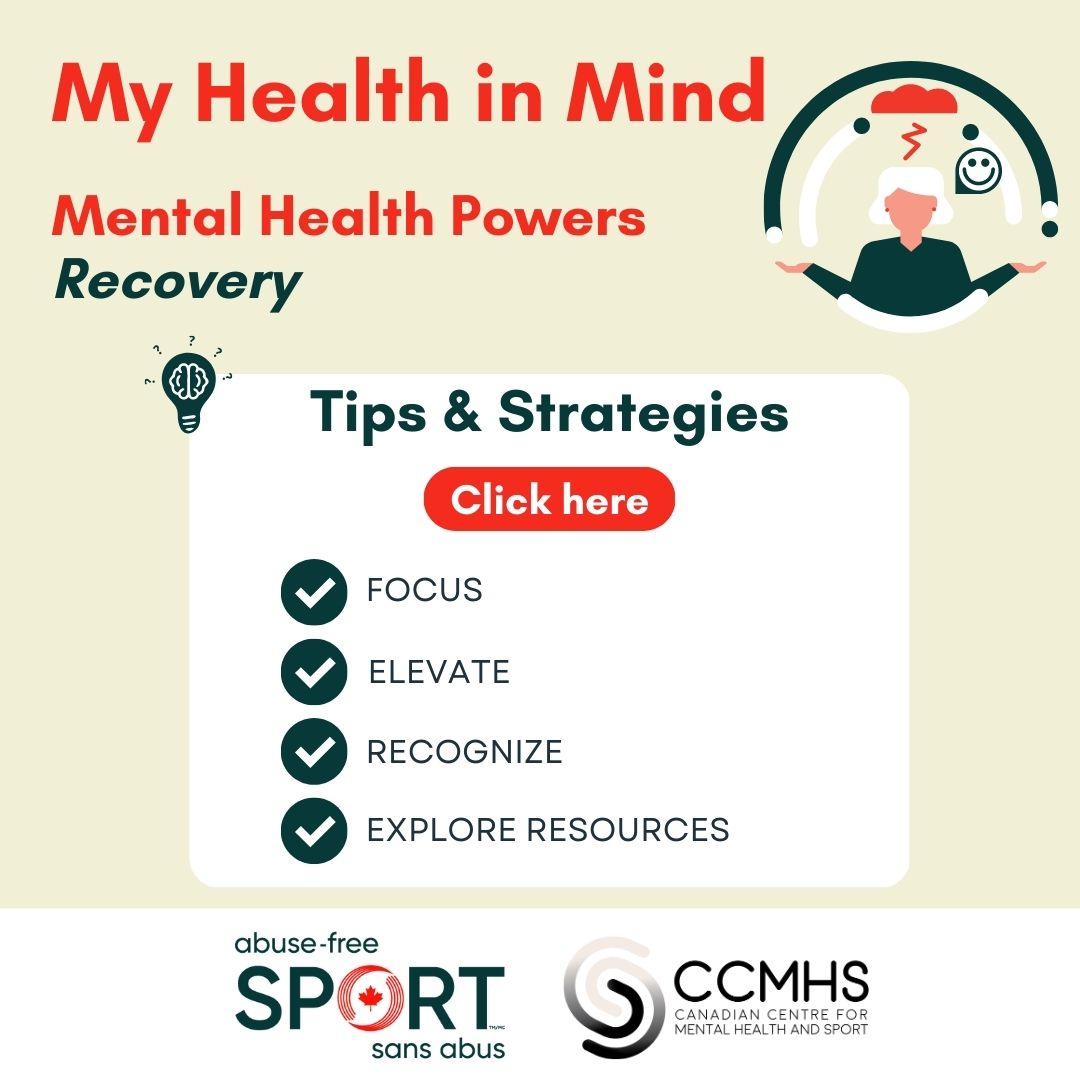 Purpose
We recognize that the Complaint Management or the Sport Environment Assessment processes can relate to unpleasant, upsetting, and/or disturbing experiences or events, which may cause emotional distress.       
The OSIC Mental Health Support Program was developed in order to support individuals before, during, and beyond OSIC processes. At the OSIC, our priority is to ensure we are responding as quickly as possible to any questions or concerns that you may have.
The Program facilitates access by eligible individuals to a suite of services through collaboration with the Canadian Centre for Mental Health and Sport (CCMHS). Services available include access to psychologists, psychotherapists and counsellors, mental performance consultants, psychiatrists, and physicians. 
This Program is strictly one of referrals. While some services may be accessible by eligible individuals free of charge, others may be available only on a paid basis. For more information about applicable fees, please consult the Mental Health Support Program guidelines.  
Eligibility
To be eligible to the OSIC Mental Health Support Program, individuals must: 
Be either 

(i) a complainant or respondent to a Complaint admissible to the OSIC, or
(ii) a victim/survivor of Prohibited Behaviour (as defined in the UCCMS) in a situation that would be admissible to the OSIC, regardless of whether a complaint has been filed, or
(iii) a requester or a participant of a Sport Environment Assessment;

Be, or have been at the relevant time, a participant in competitive sport with a current OSIC Program Signatory1;
Be at least 16 years old (access to other specialized resources may be facilitated for individuals under the age of 16).
1 This condition is waived for parties to a case that has been deemed admissible by the OSIC.
Eligibility for care is determined directly by the CCMHS, not by the OSIC.
How to Apply
If you have already submitted a duly completed Complaint Form to the OSIC, you can apply to the OSIC Mental Health Support Program by following the instructions provided by the OSIC in the letter confirming receipt of your Complaint.
Regardless of whether you have submitted a Complaint Form to the OSIC, you can apply by contacting the Canadian Sport Helpline:
By phone: an Operator of the Helpline can complete the Program referral form on your behalf while speaking with you; 
By email/SMS: the Program referral form will be sent to you with instructions.
What Happens Next? 
If you are eligible, the CCMHS will directly refer you to relevant practitioners for further support.
If you are not eligible, you will be informed and guided by the CCMHS toward other appropriate mental health resources based on your situation.
Contact Information
For more information about the OSIC Mental Health Support Program, please contact support-soutien@osic-bcis.ca
Relevant Documentation